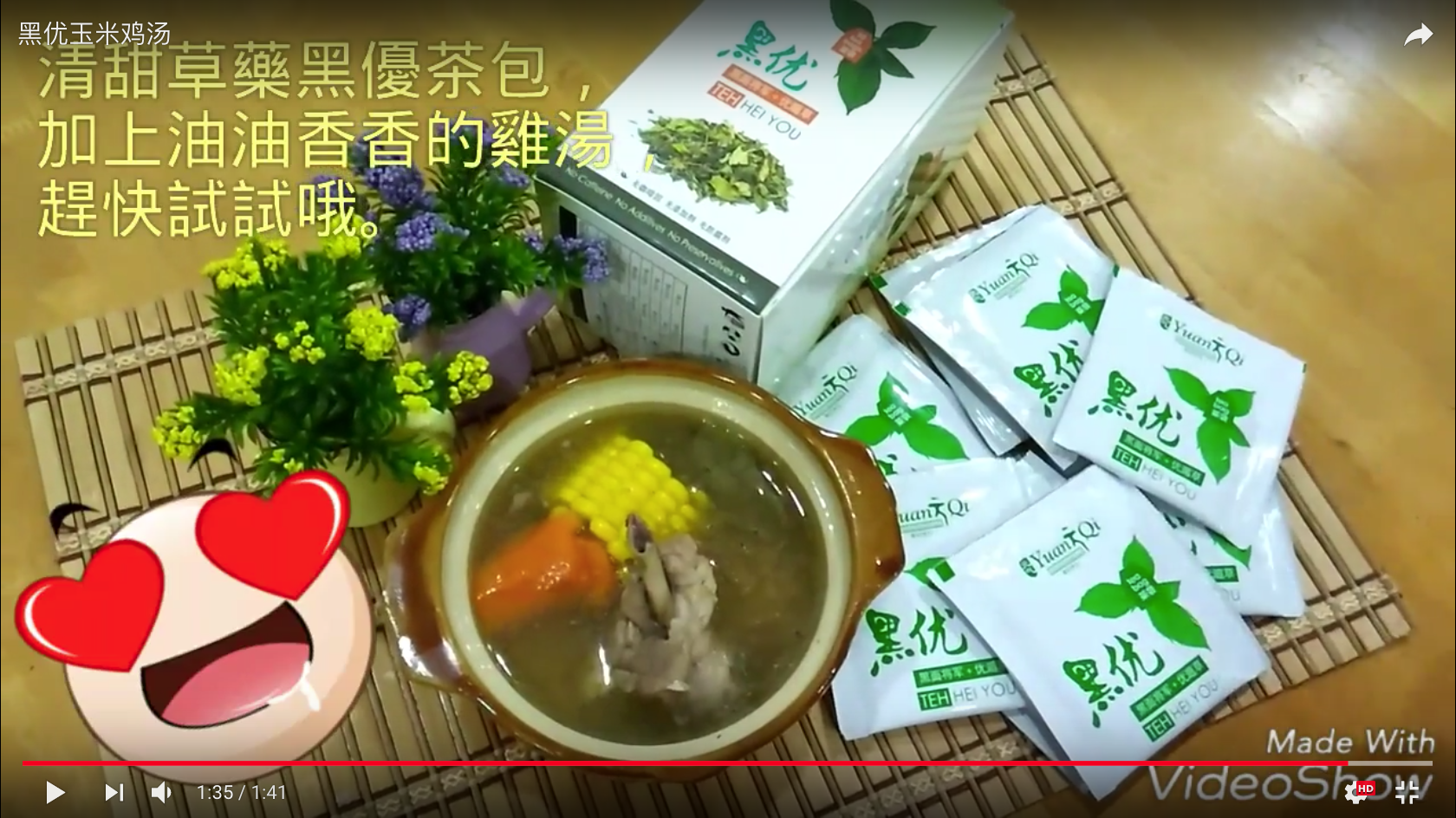 Transform your soup into a medicinal tonic!
Ingredients:
A Quarter of a chicken
1 Corn Cob (Cut in chunks)
1 Carrot (Cut in chunks)
A pack of Hei You Tea
Preparation:
1) Heat oil in a pot, then add the chicken and fry until fragrant.
2) Add carrot and corn, cover with water.
3) Add a sachet of Hei You Tea, wait until boil.
4) Skim off the residue, continue to boil for 25 minutes.
5) Add salt to taste.
Thats all! Simple right?
****
People assume that all herbal teas are bitter and astringent in taste, but that could not be farther from the truth. Hei You Tea is slightly sweet (the sweetness is from Stevia Leaf, not sugar) with the a mild herbal aroma.
This tea is effective in combating chronic diseases, regulating the menstrual cycle and clearing out acne!
Give it a try today!
来,把你喜爱的汤变成药膳!
材料:
鸡肉(1/4只)
玉米(1条,切块)
红萝卜(1条,切块)
黑优茶(1包)
做法:
热锅下油,把鸡肉倒入,炒香,炒至鸡肉稍微金黄干香。
加入红萝卜和玉米,再加入清水盖至材料。
加入黑优茶包,煮至汤滚。
捞去渣质,继续小火慢滚大约25分钟。
加入适量盐调味。
成品:清甜的黑优茶,加上油油香香的鸡汤,美味!赶快试试哦!
****
很多人以为草药茶一定是又苦又涩的,其实不然。
黑优茶是清甜的,带一点淡淡的草药香,口感很好。
茶包里主要材料是大家所熟悉的黑面将军和优遁草。对中年人降三高,女性调理月事和青少年人消青春痘都很有效哦!
今天就试试吧!