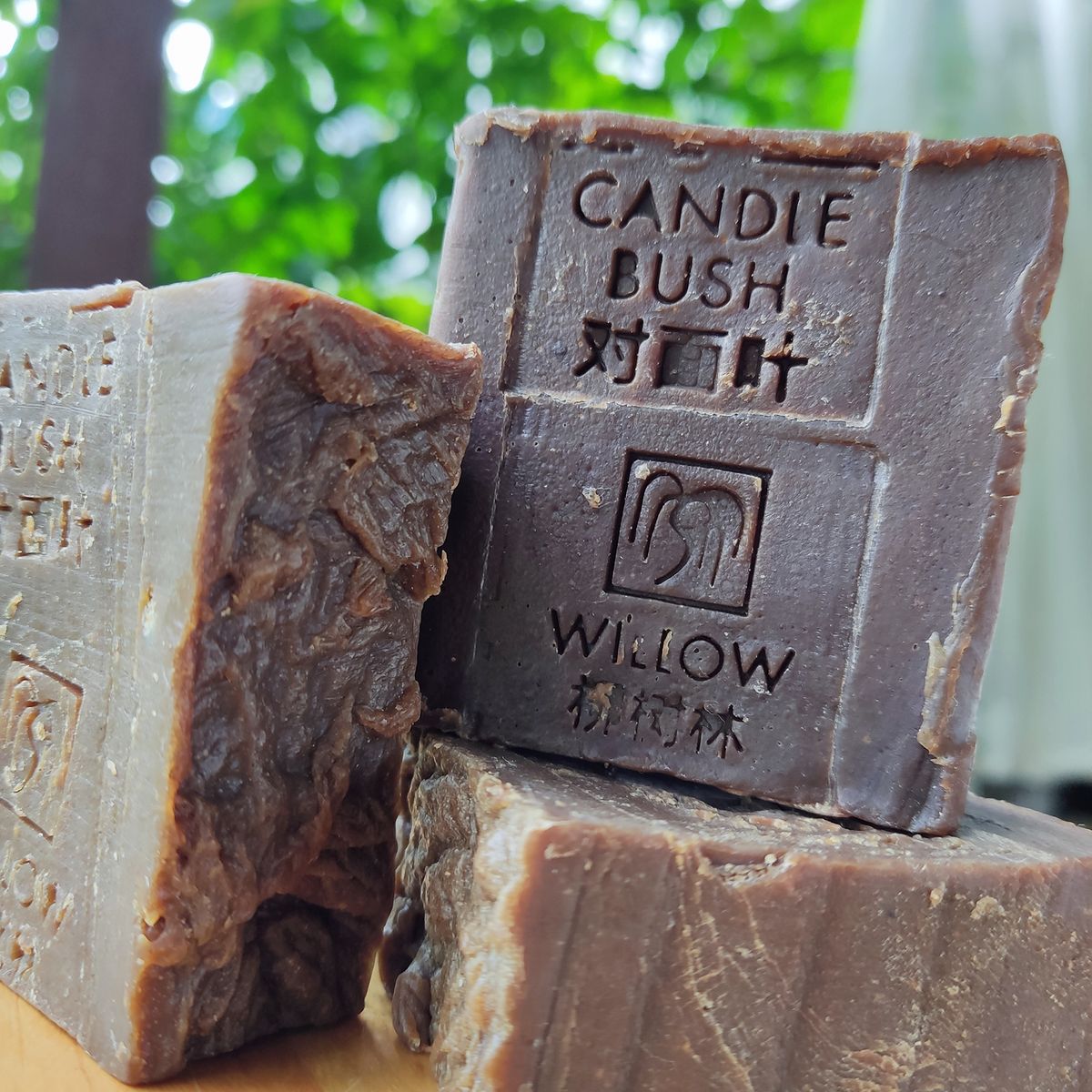 我出草药皂有一个难处,就是 - 玩不出什么花样来!不论什么配方,只要一下浓浓的草药汁,做出来的结果就是 - 褐色、浅褐色、深褐色,不会有好看亮丽的颜色。

另外为了节省不浪费,我也没有把皂的表面削滑,就这样任由它们"不修边幅",所以对面叶皂和苦楝皂往往就是颜色暗哑,表面粗糙。
没有办法,要真材实料,一定要"牺牲色相"。

若干年后的今天,"暗哑粗糙"竟然又变成另一种高雅的"简约时尚"了。
很多人其实也乐得一皂搞定,省钱省事,重要的是用过草药皂的顾客都知道是超好用的。

其实草药皂只要下料足,浓郁而有疗效,什么颜色、什么形状也不需要太在意了,这就是这几年来顾客给草药皂的肯定!

There is one challenge I always face when making herbal soap: I can't make the soap look pretty!

No matter what recipe I follow, once I add the thick herbal juice, the soap turns brown. And not a light, cheerful brown, but a dark, muddy brown.

I also don't smooth the surface of the soap in order to save money and avoid waste. As a result, my Candlebush and Neem soaps are often dull in color and rough in texture.

I know that looks can be important, but I believe that the ingredients in my soap are more important. I use real, high-quality herbs and oils, and I'm proud of the fact that my soap is effective and good for your skin.

After many years of making soap, I've come to realize that "dull and rough" can also be elegant. In fact, many people are happy to use just one soap for their entire body, saving money and time.

The most important thing to me is that my customers are happy with the soap. And I'm happy to report that I've received many positive reviews from customers who have experienced the benefits of using herbal soap.

So, if you're looking for a soap that's beautiful and luxurious, this soap may not be for you. But if you're looking for a soap that's effective and good for your skin, I encourage you to give Willow Herbal Soap a try.
----------------------------
*** 回购的顾客记得下单时要先 Sign in 才能用分数扣除
*** If you are a returning customer, please remember to sign in before you place an order in order to claim coins.

---
Related products