WILLOW Neem Soap Block 柳树林苦楝皂砖- cut 10pcs


产品说明
(Scroll down for English translation)
一条苦楝皂砖重量大约是1100克 +/-,可以切 10-12 片 ,算起来一片皂 RM 17.8 (原价 RM 30),比原价便宜 RM 12.2!
皂砖是特别为全家使用草药皂的朋友而设的。
我们很高兴能给长期使用草药皂的朋友,最省最实惠的价钱。
* 下单前请仔细阅读产品解说 *
皂砖就是:
- 还没有切成片、
- 也还没干燥
- 但是已经完全皂化的条状皂。
皂砖没有包装。
买皂砖的朋友,必须要自己切皂、自己晾干。
晾皂方法:

最简单容易、0失败率的方法:收在冰箱里
- 皂切了后,就这样赤裸的摆放放在冰箱里晾干(不是结冰层)。
- 不要把皂包起来;如果用容器乘着,必须把容器的盖子打开,让水份散发,慢慢的风干。
- 皂不会影响冰箱里的食物,反之亦然。
- 皂必须在冰箱里风干至少两个月或以上,才可以使用。
- 已经风干但还没有使用的皂,可以继续放在冰箱里。
- 已经风干的皂,如果要存放在室内,从冰箱取出后,用布擦干皂表面凝结的的水珠,然后包上保鲜膜,防止肥皂吸收空气中的水气。


室温室内晾皂:
- 最理想的情况是室内有除湿机
- 第二理想的是摆在冷气室里
- 必须时时查看有没有受潮,尤其是下雨天。
- 皂必须在室内风干至少两个月或以上,才可以使用。
- 已经风干的皂,最好包上保鲜膜,防止肥皂吸收空气中的水气。
- 也可以把风干的皂收在冰箱里。

不晾皂,直接用:
- 皂切了后马上用也是可以的,但是皂还很软,会很快融化,因此不耐用。

起泡网 VS 皂盒
- 用后的肥皂不要放在一般的皂盒里,会软烂,即使是底部有洞或垫高的皂盒也要避免。
- 手工皂跟超市买的皂不同,是不适合用皂盒的。 因为手工皂里有甘油,容易吸收水份。
- 超市买的皂,是已经把甘油抽掉,所以变得很干燥很硬朗,可以用皂盒。
- 草药皂配合起泡网使用是最好的选择。起泡网可以帮助起泡,使泡沫细腻丰富。 -
- 用后把皂和起泡网用水冲干净,用挂钩吊起来,让皂在起泡网里慢慢滴干水份,这样皂会十分耐用。
- 如果真的不想用起泡网,唯一最好的的选择,是安置在墙面上的网状金属皂托。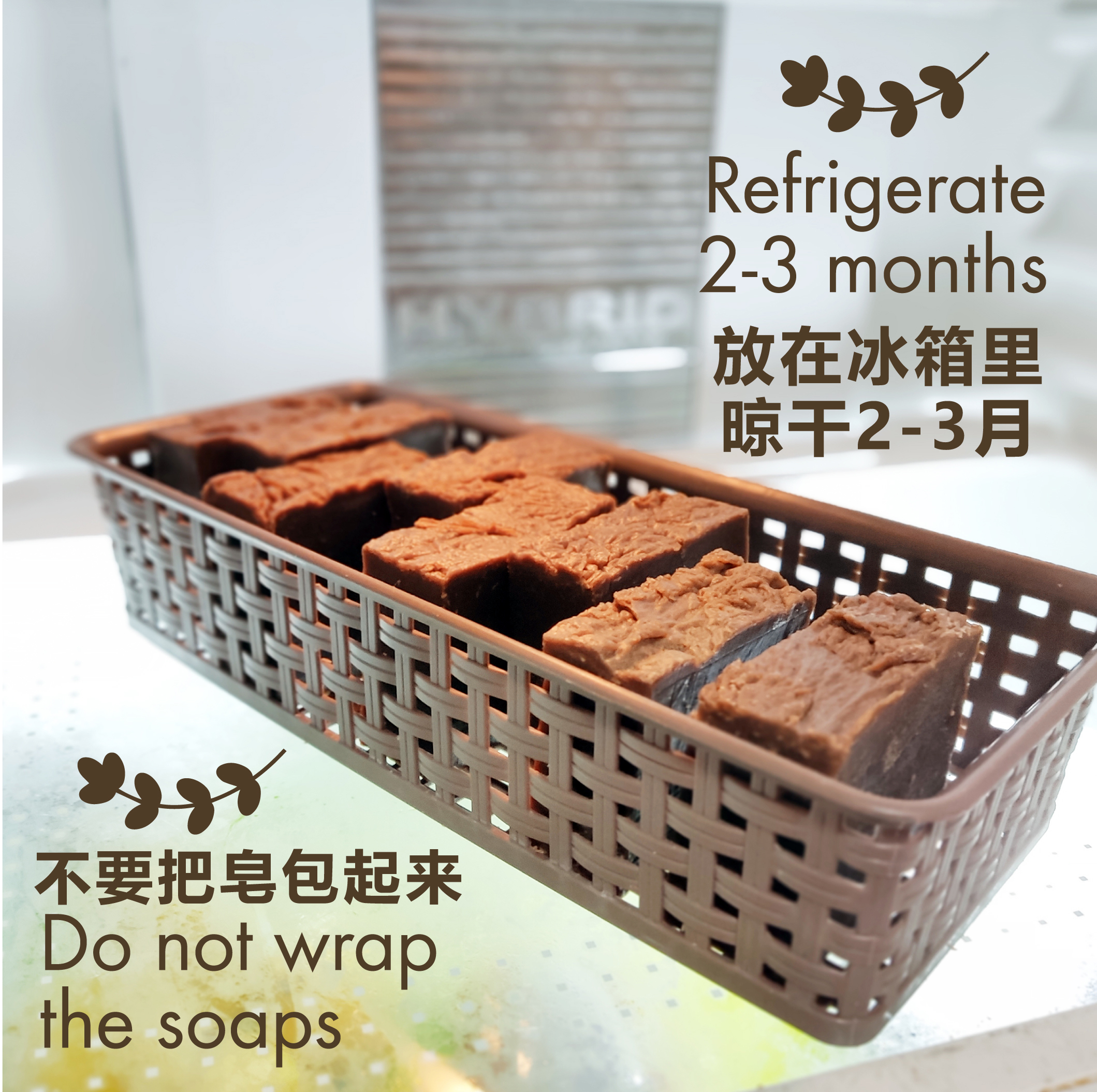 请注意:
皂砖收到后如果不得空处理,可以连同包裹的纸皮,暂时收在冰箱里。
皂砖收到后,请尽快切片晾干。
皂收在冰箱里,两三年都不会坏,更不用担心发霉。
特别声明:
如果您不方便切皂和晾皂,请不要购买皂砖。
您可以购买6片装。6片装是已经晾干、并且可以立刻使用的皂。
Product Description
A Neem Soap Block weighs about 1000 grams +/-.
It can be cut into 10-12 pieces, and cost about RM 17.8 for each piece, RM 12.2 cheaper than the original price!

Soap Block is your best choice, if you need to provide soap for your whole family!

We are happy to present the most economical package and the most affordable price for long term users.
* Please read the product description carefully before placing an order *

Soap blocks are bars of soap that:
- have not been cut into pieces yet
- they are cured (fully saponified)
- but yet to be dried

Soap blocks are sold naked, without any packaging.

You are required to cut the soap and dry it yourself.

Drying Method:
A) The easiest and most foolproof method:** Store the soap in the refrigerator.

1. After the soap is cut, place it bare in the refrigerator to dry (not in the freezer). Don't wrap the soap. If you use a container, leave the lid open to let moisture evaporate.
2. Soap won't affect food in the refrigerator, and vice versa.
3. Leave the soap in the refrigerator for at least two months before using it. Dried soap can be stored in the refrigerator.
4. If you want to store dried soap indoors, wipe off any water droplets on the surface with a cloth after taking it out of the refrigerator. Then, wrap it in plastic film to prevent it from absorbing moisture from the air.

B) **Drying soap at room temperature:

1. If you have a dehumidifier in the room, use it. Otherwise, put the soap in an air-conditioned room.
3. Check for moisture from time to time, especially on rainy days.
4. Leave the soap in the room for at least two months before using it.
5. Once the soap is dry, it's best to wrap it in plastic film to prevent it from absorbing moisture from the air. You can also store dried soap in the refrigerator.

C) Use the soap right away without drying

You can use the soap right away after it's cut if you wish to, but it will be soft and could melt quickly. This is not recommended.

**Bubble net vs. soap dish:**

1. Don't put soap in a regular soap dish after use. The soap will become soft and mushy, even if the soap dish has holes or is raised.
2. Handmade soap is different from supermarket soap and should not be used in a soap dish. Handmade soap contains glycerin, which absorbs moisture easily.
3. Supermarket soap has the glycerin removed, so it is very dry and hard and can be placed in a soap dish.
4. The best way to use herbal soap is with a bubble net. The bubble net helps to create a fine and rich lather.
5. After use, rinse the soap in the bubble net with water and hang it up to dry. This will help the soap last longer.
6. If you really don't want to use a bubble net, the best option is to install a mesh metal soap tray on the wall.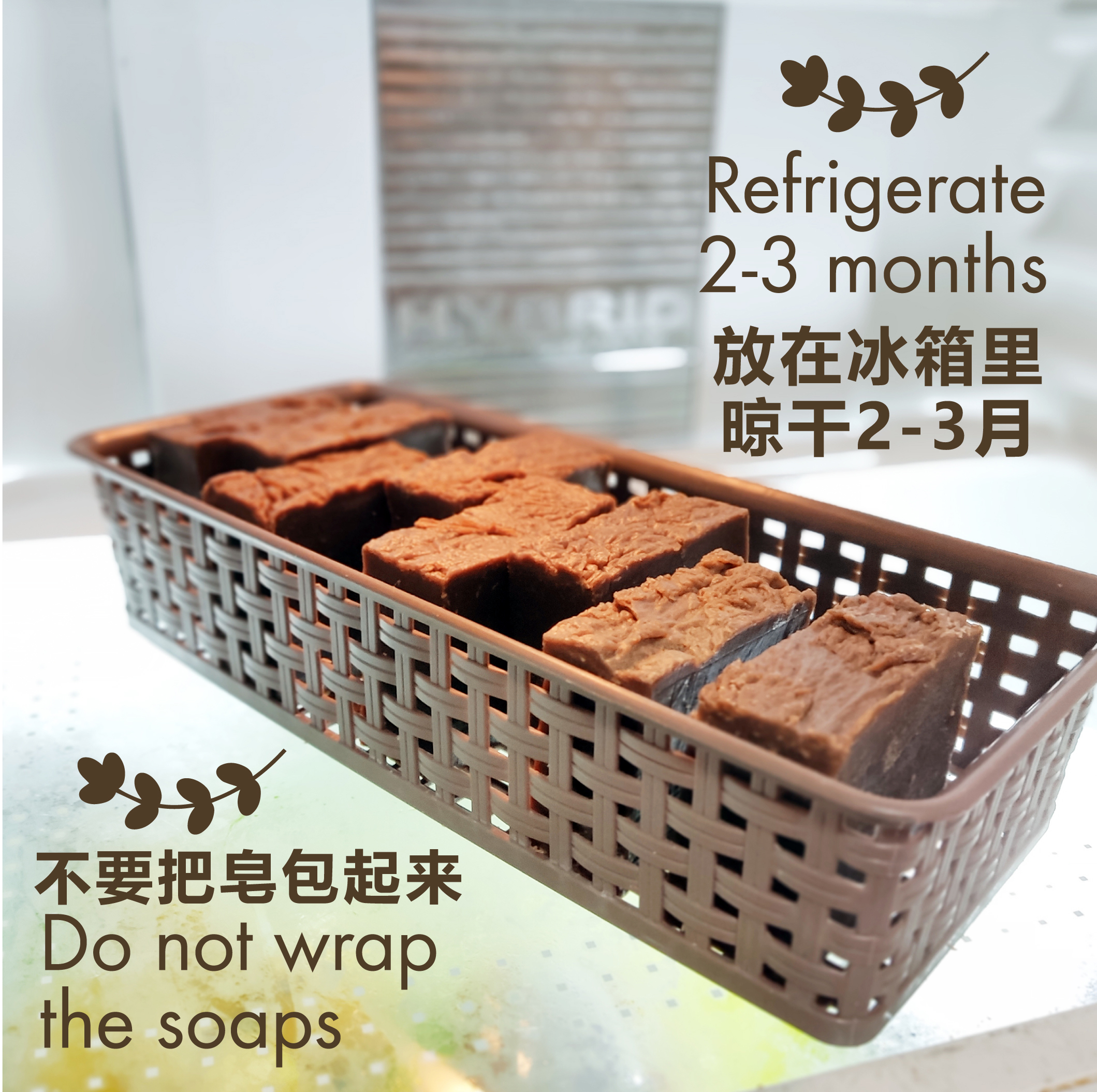 Notes:

If you are unable to manage the blocks immediately after receiving them, simply place them in the refrigerator with the wrapper on.

Please cut them as soon as possible.

Soap kept in a refrigerator will remain fresh for at least 2 years or even longer.
They will never get moulded in the fridge.
Caution:
Please do not buy Soap Blocks if cutting and drying soap is inconvenient for you.
You can buy the 6-piece-pack instead, which is fully dried and ready to use.

---